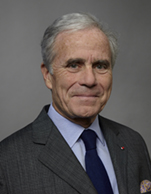 Philippe Louis-Dreyfus
Chairman
Louis Dreyfus Armateurs

In 1974, after having acquired a shipping experience in London and Oslo, Philippe Louis-Dreyfus joined Banque Louis Dreyfus where he created a specialized shipping finance department.

In 1986, he left his family group to go and work with Banque Pallas France, in charge of the business and corporate division.

In 1994, he became President of Credit Naval.

In 1996, he returned to his family business to take the responsibility of Louis Dreyfus Armateurs, of which, together with his children, he finally took over 100 % control.

Philippe Louis-Dreyfus was elected President of Armateurs de France (2002-2004), the French Shipowners'association, and also President of ECSA, the European Community Shipowners'Associations (2006-2009) of which he remains Vice-president.

He has also been President of BIMCO (2015-2017).

He is member of the board of the French International Business Confederation (Medef International) of which he is also Vice-President, and of the French C.C.E. network (French foreign trade advisors).

Among other distinctions, Philippe Louis-Dreyfus is Commandeur of the Légion d'Honneur, and Officer of the British Empire (OBE).