Speaker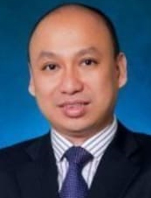 Ali Susanto
Managing Director and Head of Energy Transport & Infrastructure
GGL Asset Management

Ali has more than 19 years of financing/banking experience with more than 15 years of it in financing shipping, offshore and energy transportation companies. He was an Executive Director and a senior member of Shipping Finance team of Standard Chartered Bank (SCB) and was involved in setting up the ship operating lease business for the bank. Ali joined SCB in 2010 and left in Dec 2016.

Prior to joining SCB, Ali was a Senior Investment Manager of DVB SIIM (formerly known as NFC Shipping Funds). Ali joined DVB in 2002 and DVB SIIM in 2003 where he managed the shipping investment funds of DVB and other investors in Asia. The shipping investment funds invested in more than 200 vessels.

Ali holds an MBA from TSM Business School (Twente Universiteit, the Netherlands) and is a CFA charter holder.