Capital Link's 11th Annual Greek Shipping Forum will take place on Thursday, February 20, 2020 at the Hilton Athens Hotel in Athens, Greece. The Forum is organized in cooperation with the New York Stock Exchange and Nasdaq.

Bank of Communications Financial Leasing is the Lead Sponsor.

With 1000+ participants every year,
attendees can expect an informative networking forum connecting them to the shipping industry's key players, including influential members in the financial community, such as commercial and investment banks. This one-day conference, known for its large attendance by shipowners, its rich informational content and the extensive marketing, networking and business development opportunities.



View the agenda


Register now

LUNCHEON & AWARDS CEREMONY
LUNCHEON Introductory Remarks by

H.E. Adonis Georgiadis
Minister of Development & Investments,
Hellenic Republic

CAPITAL LINK GREEK SHIPPING LEADERSHIP AWARD

The 2020 Capital Link Greek Shipping Leadership Award
Will be presented to

Mr. George Procopiou
Founder,
Dynacom Tankers Management, Sea Traders – Dynagas

We recognize Mr. George Procopiou for his long standing achievements and contribution to the Greek and Global Shipping Industry, for his thought leadership and pioneering initiatives, as well as for his contribution to Greece through is his support of numerous cultural and philanthropic endeavors.

Introduced by Mr. Nicolas Bornozis, President, Capital Link
CHINESE LEASING PANEL


Moderator: Mr. Dylan Potter
, Partner
–
VedderPrice

Panelists:
Mr. Cruise Chi

, Managing Director

–

Bocomm Shipping Leasing (Europe) GmbH

Mr. Jack Xu

, Deputy Head of Shipping Finance Department

–

CMB Financial Leasing

Mr. Bill Guo

, Executive Director, Shipping

–

ICBC Financial Leasing

Mr. Nick Daskalakis

, Director

–

Smarine Advisors Limited (TBC)
BANK FINANCE & SHIPPING PANEL


Moderator: Mr. Jasel Chauhan
, Partner, Head of International Finance

–
Hill Dickinson International

Panelists:
Mrs. Danai Kotsia

, Head of Lending Transportation Athens Branch

–

ABN AMRO

Mr. Philipp Wuenschmann

, Global Head of Shipping

–

Berenberg Bank

Mr. Vassilios Maroulis

, Managing Director Head, EMEA Shipping, Logistics & Offshore

–

Citi

Mr. Evan Cohen

, Managing Director & Group Head of Maritime Finance

–

CIT Bank

Mr. Christos Tsakonas

, Global Head of Shipping

–

DNB
CAPITAL MARKETS PANEL


Moderator: Mr. Edward Horton
, Partner

–
Seward & Kissel

Panelists: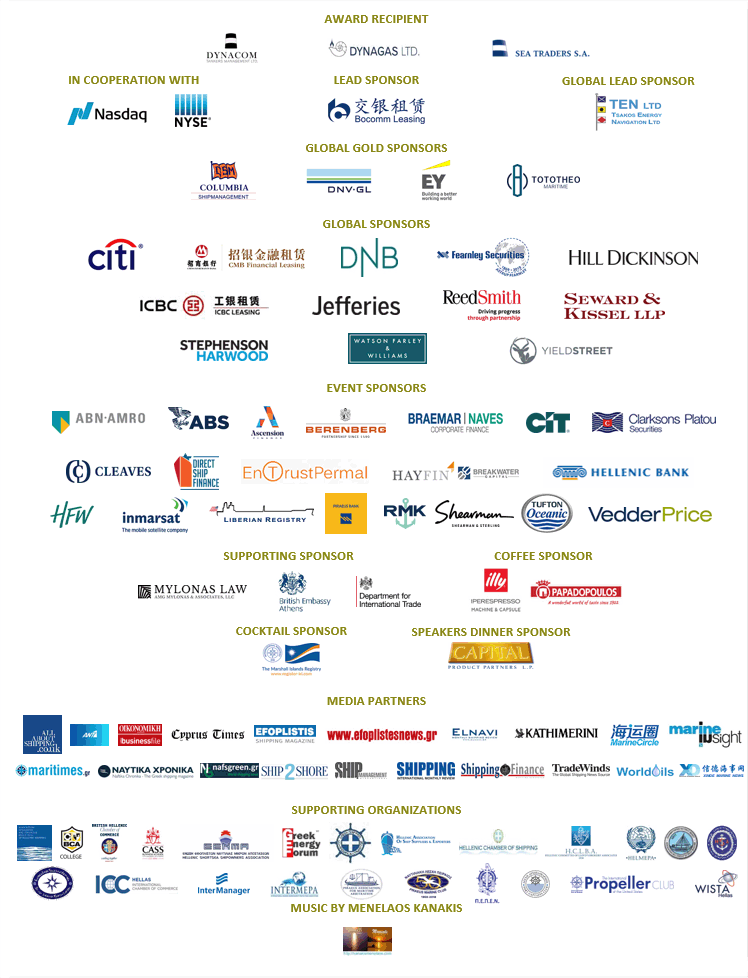 For more information, please contact: Eleni Bej, Director of Event Operations at Email: ebej@capitallink.com, Tel : +1 (212) 661-7566 in NY or Athena Kosmadaki (Greece), Marketing and Media Relations at Email: marketing@capitallink.com, Tel : +30 (210) 610-9800.

For sponsorship opportunities please contact: Olga Bornozi, Nicolas Bornozis and Anny Zhu at Email: forum@capitallink.com, Tel: +1 (212) 661-7566.