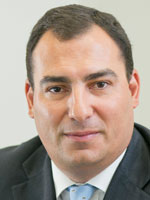 Dimitrios Athanasopoulos
Founding Partner, Group Managing Director & Member of the Executive Committee
AXIA Ventures Group, Ltd.

Dimitrios Athanasopoulos is a Founding Partner, Group Managing Director and member of the Executive Committee of AXIA Ventures Group, Ltd., which is the parent of AXIA Capital Markets, LLC, with more than 20 years of experience in the finance industry. Prior to AXIA, Dimitrios was a Managing Director of AXIA Ventures Ltd, an alternative investments and corporate finance advisory boutique focusing on global institutions, corporate clients and family offices. He is a Founding Partner and currently serves as Chief Financial Officer, Treasurer, and Director of ITHAX Acquisition Corp. From 2001 to 2004 Dimitrios worked for a large family office in NY, with assets under management of $3.5 billion, conducting due diligence and ideas generation regarding the underlying funds. He has also worked in the Private Wealth Management divisions of Salomon Smith Barney and Morgan Stanley in New York. Dimitrios holds a B.B.A. in Finance and Investments from the Zicklin School of Business, Baruch College. Dimitrios has been Head of International Committee at HOPEgenesis.