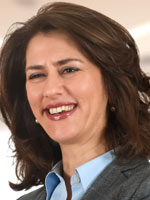 Elisabeth Eleftheriades
Partner
Kyriakides Georgopoulos Law Firm

Elisabeth heads the Startups & Innovation team of KG Lawfirm, focusing on equity financing and M&A. She is also very active in the Project Development team of the firm, mostly in real estate transactions, construction agreements and PPPs.

In the Greek startup ecosystem, Elisabeth has acted on the founders' side for a number of successful exits including e-food sale to Delivery Hero Group, Taxibeat sale to Daimler-Benz group, Papaki to TeamBlue and the landmark Instashop deal also to Delivery Hero Group.

She regularly acts for VCs and founders, mostly in pre-seed and seed rounds in Greece and further supports successful startups in their post-acquisition integration phase.

With an Energy & Infrastructure and Project Finance background in KG Lawfirm, Elisabeth's expertise covers the full spectrum of M&A and project finance work in infrastructure projects in Greece, with a focus on private-public partnerships (PPPs).

Her professional experience covers work for an international advisory firm in Russia as well as policy matters in national, EU and LATAM.