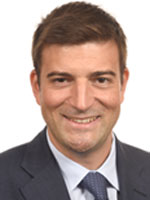 Alex Fotakidis
Partner & Head of Greece
CVC Capital Partners

Alex Fotakidis is a Partner at CVC and Head of Greece. He is based in Athens and responsible for all of CVC's investment activities in Greece. Alex has been working at CVC for more than 15 years and previously spent 5 years at CIBC World Markets, working in the European Leveraged Finance team. He holds an MSc in Environmental and Natural Resource Economics and a BSc in Economics and Geography, both from University College London.

Established in 1981, CVC is a world leader in private equity and credit with $115 billion of assets under management, $163 billion of funds committed and a global network of 24 local offices: 16 across Europe and the Americas and eight in the Asia Pacific region. Today, funds managed by CVC are invested in more than 100 companies worldwide.

CVC is one of the most active institutional investors in Greece, having invested or committed more than €1bn of equity since 2017 across various sectors. Today, CVC has 5 portfolio companies in Greece: Hellenic Healthcare Group, eTravel, D-Marin, Skroutz, and Vivartia. In addition, funds managed by CVC have recently signed the acquisitions of Ethniki Insurance and Dodoni.