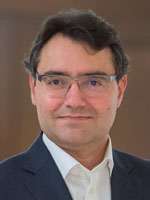 George Georgakopoulos
Managing Director Greece
INTRUM

Mr. George Georgakopoulos is the Managing Director Greece at Intrum as of October 23, 2019 & Member of the Group Management Team, as of February 4, 2020. He was an Executive BoD Member of Piraeus Bank. He has long international banking experience having started his career in 1995 at Barclays Bank in London. In 2008 he joined Eurobank Romania (BancPost) where he took on the CEO position in 2014. In 2016 he assumed the position of CEO at 4finance, a market leader in the field of Digital Lending in Europe. Mr.Georgakopoulos is a graduate of Athens Law School, holder of an MBA (Glasgow) and has received extensive executive education at INSEAD, London Business School, IMD and the Joint Vienna Institute.