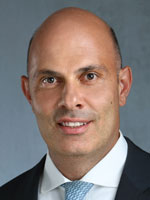 Theodore Gnardellis
Group Chief Financial Officer
Piraeus Financial Holdings

Theodore Gnardellis serves as the Group Chief Financial Officer of Piraeus Financial Holdings and has been a member of the Piraeus' Executive Committee since July 2019. He joined Piraeus Bank in June 2018 as Head of the Piraeus Legacy Unit Strategy.

He has accumulated a wide range of experiences in financial services with more than fifteen years in various companies and banks in Greece and abroad.

Prior to joining Piraeus Bank, Theodore Gnardellis held, among others, the positions of Chief Strategy & Transformation Officer at NN Group (Greece) and Head of Strategy & Transformation at Emirates Islamic Bank (UAE). He has also been a senior member of McKinsey & Company for six years, serving financial institutions in more than 10 countries.

Theodore Gnardellis holds a degree in Computer Engineering & Informatics and obtained an MBA from the Imperial College Business School in London.