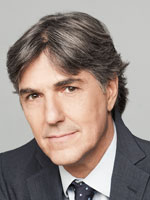 Nicos John Koulis
CEO
DECA Investments AIFM



Nicos Koulis is the CEO of DECA Investments AIFM, the investment manager of Diorama Investments Sicar, a € 135 million Luxembourg –based private equity fund established in 2014 to provide growth equity capital to export-oriented Greek companies. As of today Diorama has invested in ten companies competing in a variety of sectors such as food, pharma, technology and industrial.
Mr. Koulis started his career in New York City, where he spent 18 years working with McKinsey & Company, The First Boston Corporation (M&A Group), and Bear Stearns & Co.  Later he established an M&A advisory firm, which provided advisory and fundraising services to several international companies.
He is a graduate of the Wharton School, University of Pennsylvania (MBA 1983) and Athens University, School of Law (1979). He serves as a member of the BoD of several companies.