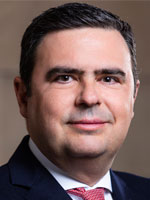 Machas Petros


Petros Machas is the Founding Partner and Chairman of Machas & Partners, one of the most dynamic and fast-growing law firms in Greece. Machas & Partners is acknowledged for its cross-border litigation practice and for providing high quality services in demanding and sophisticate corporate deals. Its experience spans M&As, real estate, privatizations and energy, as well as capital markets, banking and finance matters including syndicated loans, convertible & HY bonds, debt restructuring, asset or trade finance in the fields of real estate, concessions, energy etc.

Petros is a recognized litigator with more than 20 years of diverse experience, having handled some of the most high-profile cases in Greece. His practice includes cover-page white-collar crime, international IP litigation and multi-million commercial and civil litigation or ADR.

In his career, Petros has developed a strategic pro-business approach and has earned the respect of his peers and clients for his solid, proactive and effective multi-jurisdictional practice. Petros is specialized in cross-border commercial arbitration proceedings (ICC, ICSID etc.) and is a highly trained and experienced negotiator and dealmaker. International investment and private equity funds seek Petro's guidance as an authority on foreign direct investments in Greece and beyond.

Petros has spoken at numerous international conferences on the legal framework for investments in Greece, Real Estate Projects and PPPs and has been the advisor to the Greek Ministry of Development for drafting the new Investment Law.

Petros is ranked as a lawyer in Dispute Resolution and in White Collar Crime by Chambers Europe. He is a member of the European Criminal Bar Association (ECBA) and the Athens Bar. Petros is also a Registered European Lawyer at the Solicitors Regulatory Authority of England and Wales.