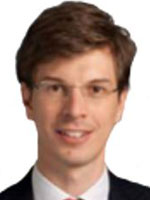 Luca Maiorana
Head of FIG Emerging Europe, Head of Fintech and Asset Management Banking Coverage
Barclays

Luca Maiorana heads the Financial Institutions practice for Emerging Europe at Barclays Investment Bank. He also heads the FinTech and Asset Management Investment Banking coverage in Europe. Luca has been covering the Hellenic region for the last 15 years and has executed a significant number of M&A and ECM transactions for Greek financial institutions, comprised of: (i) in-market banking consolidation, (ii) balance sheet restructuring transactions, (iii) insurance and bancassurance transactions, (iv) NPL portfolio, securitisation and servicing disposals as well as (v) merchant acquiring carve-out and partnership deals.

Before joining Barclays in 2010, Luca worked in the FIG teams at Rothschild and HSBC at the beginning of his career. An Italian national who has graduated from the Bocconi University in Milan, Luca holds an executive education diploma in Finance from Wharton.