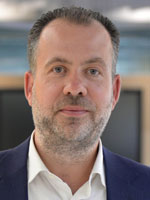 Georgios Papadimitriou
Partner, EY Greece
Markets & Accounts Leader for Central,
Eastern and Southeastern Europe & Central Asia


Georgios Papadimitriou is a Partner in EY and the Regional Accounts and Markets Leader of Central, Eastern and Southeastern Europe & Central Asia (CESA). In this role he is responsible for leading the EY's integrated go to market approach for the region, leveraging the power of sectoral expertise, alliances and innovation in executing client service strategies. Before his appointment as CESA Regional Markets Leader, he has been the Financial Services Industry leader in the CESA region and Advisory Leader for EY in Greece and Southeast Europe.

George has a strong background in Financial Services having 20 years of respective professional experience, focusing for many years on Risk Management. He has worked extensively on advising clients at C suite level across all Dimensions of Risk and Business transformation.

He holds an MSc in Accounting and Finance from the London School of Economics (LSE) and a number of professional certifications in Risk and Finance. He is a Chartered Financial Analyst (CFA), a Professional. Risk Manager (PRM), a certified Financial Risk Manager (FRM) and a Certified Financial Services Auditor (CFSA).