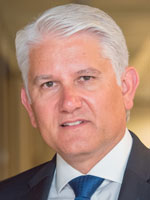 Lazaros A. Papagaryfallou
General Manager – CFO
Alpha Bank

Lazaros A. Papagaryfallou is General Manager and Chief Financial Officer at Alpha Bank. As a member of the Bank's Executive Committee, he is responsible for Finance, Strategy, Real Estate, Troubled Assets, Investor Relations, Capital Management, ALM and regulatory matters. He has joined Alpha Bank in 1998 and, until becoming the Bank's CFO in 2019, he held various positions, including Manager of the International Network and Executive General Manager in charge of Strategy and Corporate Development. Throughout his career he has managed significant M&A and transformational projects, has led the bank's restructuring plan, capital and debt raisings as well as the deleveraging of non-core and troubled assets. He started his banking career at ABN Amro and Citibank.

He holds an MBA from the University of Wales, Cardiff Business School and a B.S. in Business Administration from the Economic University of Athens. He was born in Athens in 1971.