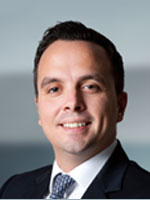 Dimitrios Psarris
Partner, Financial Services
Managing Director Oliver Wyman Greece & Cyprus

Dimitris Psarris is a Partner and senior member of Oliver Wyman's Global Financial Services Practice and the Managing Director of Oliver Wyman Greece & Cyprus.

He joined Oliver Wyman in London in 2007 and since then have advised major banks, corporates, private equity firms, governments and supranational institutions across Europe, Middle East, the US and Sub-Saharan Africa, based out of London, Madrid, New York and Athens.

Dimitris has extensive experience working with senior executives and management teams on strategy and business development, value creation and transformation programs, commercial effectiveness, risk management, credit analytics and distressed assets management.

He led Oliver Wyman's market entry to Greece and Cyprus and the establishment of the firm's Athens office.

Dimitris has degrees in Finance and Business from the London School of Economics, Copenhagen Business School and the Athens University of Economics and Business.