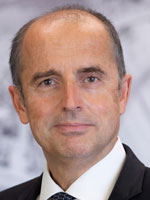 Harry Sachinis
Chief Executive Officer
EYDAP

Mr. Sachinis is the Chief Executive Officer of EYDAP, the largest water and wastewater company in Greece.

He previously held the position of Business Development Officer at Aegean Airlines.

He has been involved in private equity independently as a Partner at Global Finance and as an Operating Partner at Advent International.

Earlier he was the Chairman and CEO of DEPA Group, where he improved business efficiency, negotiated and completed major supply contracts and contributed in the shaping of alternative gas supply routes to Europe.

He has also served as President of the McGraw-Hill Companies' Business Information Group, which he made into one of the top global business-to-business information companies, specializing in the aerospace and defense, construction and energy industries.

Prior to this, he was President of Platts, which he built into the world's largest energy price and information provider and at the same time actively promoted transparency and integrity in the global energy markets.

He was also Group Vice President of Standard & Poor's, where he grew key strategic businesses in the financial information sector.

He is Vice President of ATHEXClear and a Member of the Boards of Directors of ENEXClear, of the Atlantic Council and οf the Investment Committee of CNL Capital.

He holds an engineering degree from the National Technical University of Athens, Greece and an MBA from Harvard Business School.