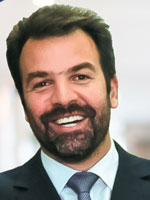 Manolis Sigalas
First Vice President & Managing Director
Hill International, Inc.

Manolis Sigalas is the First Vice President & Managing Director for Southern Europe, including operations in Italy, Greece, Cyprus and Albania. He joined Hill International in London in 2005, leading or serving significant project management and advisory services appointments internationally and he is currently overseeing in excess of €1.5 Billion of infrastructure and building projects in the region. Among other, recent roles include PMC Team Leader for the Infrastructure and Landscape Programme of the Hellinikon Project, PM Director of the Stavros Niarchos Foundation Healthcare Initiative Program, PM Director of the Re-development of the Four Seasons Astir Palace Hotel Athens, PM Executive of the expansion of the Port of Thessaloniki and of the Independent Engineer's team for the New International Airport in Crete (Kasteli). He has led Technical Advisory teams on a number of transactions internationally and in Greece working for investment funds and lenders. He holds the Degree of Civil Engineer from NTUA and a Master in Engineering from the Massachusetts Institute of Technology (MIT).