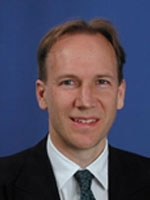 Paul Simpkin
Managing Director and Chairman of EMEA Loans and Leveraged Finance
Citi



Paul Simpkin is the London-based Chairman of EMEA Loans and Leveraged Finance for . Citigroup Global Markets Limited ("Citi"). After joining Citi in 1989, Paul moved to the high yield team in New York in 1994 working on financings in North and South America together with Europe, moving back to London four years later. Paul was Head of European Leveraged Finance and Co-Head of European Investment Grade Loans and Leveraged Finance before becoming EMEA Chairman. Paul has extensive experience in leveraged finance and high yield issuance, having operated in these markets for more than 30 years. Citi Greece lead by Emilios Kyriacou together with Paul did the first Greek corporate (non-shipping) high yield issue in 1997 for Fage and has since done more than 20 issues for other companies including Antenna TV, Yioula, PPC,. 




Hellenic Petroleum, Frigoglass, Ellaktor, Mytilineos, OTE, Titan, Wind Hellas and Motor Oil. Paul holds a MA (Hons) in Law from Cambridge University.



Notable recent transactions in Greece include:
Joint Global Coordinator on €400m Senior Notes for Motor Oil (July 2021)
Joint Global Coordinator on a €500m Sustainability-Linked Note for PPC (July 2021)
Joint Global Coordinator on €500m Senior Notes (Green bond) for Mytlineos (April 2021)
Joint Global Coordinator on a €650m & €125m add-on Sustainability-Linked Note for PPC (March 2021)
Joint Global Coordinator on €350m Senior Notes for Titan Cement (July 2020)
Joint Global Coordinator on €70m Senior Notes (Green bonds) Tap for Ellaktor (January 2020)
Joint Global Coordinator on €260m Senior Secured Notes for Frigoglass (January 2020)
Joint Global Coordinator on €600m & €125m add-on Senior Notes (Green bond) for Ellaktor (Dec 2019 and Jan 2020)
Over 50 issues for European companies during 2020/21 including:
Global coordinator (2021) for refinancing in US and European capital markets of $4.3bn acquisition finance bridge (2020) for Ineos' acquisition of BP's Petrochemicals business.
Global coordinator for Rolls-Royce's £2bn high yield bond financing ($1bn, €750m and £545m) as part of a £5bn equity and bond/loan recapitalisation and refinancing
Lead global coordinator for Virgin Media's £4bn financing bridge for its acquisition of O2 and £4.7bn capital markets take- out in Euro, Sterling and US Dollar term loan and bond markets
Left lead bookrunner on 5 high yield issues for Ardagh in US$ and Euro high yield markets to recapitalize and refinance post Covid
Global coordinator on Liberty Global's first green bond through its VodafoneZiggo business (€700m)
Global coordinator for Ball's $1.3bn 10 year bond issue (lowest ever US coupon for non-investment grade company)
Global coordinator for Synthomer's €520m bonds refinancing part of its acquisition financing bridge for Omnova
Left lead bookrunner on $650m and £450m bond issues for Virgin Media
Joint bookrunner for two bond issues for Intrum (€600m and €250m)
Joint bookrunner for UPC's acquisition financing (€800m / $2.6bn) term loan for Sunrise
Joint bookrunner for AMS' 4 bonds (totalling €1.25bn) refinancing part of a $4.7bn acquisition financing bridge for Osram
Joint bookrunner on €650m, $675m and $250m bond issues for Virgin Media
Joint bookrunner for Stena's bond issues (€315m and $350m)
Joint bookrunner for three bond issues for Altice (€500m and €500m plus $1.225bn)
Joint bookrunner for two Cable and Wireless issues ($1.3bn term loan and $150m bond)
Joint bookrunner for GUS' term loan (€1bn)
Joint bookrunner for €900m and $500m bond issues for VodafoneZiggo