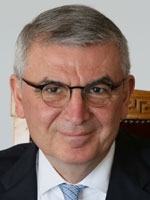 Panos Tsakloglou
Deputy Minister of Labour & Social Affairs

BA in Economics (University of Thessaloniki), MA and PhD in Economics (University of Warwick).

Professor, Athens University of Economics and Business, Research Fellow of the Institute for the Study of Labor (IZA, Bonn) and Senior Research Fellow of the Hellenic Observatory (LSE, London). His research focuses on Economics of Social Policy (inequality, poverty, social exclusion, redistributive role of the state) Labour and Education Economics (determinants of unemployment, returns to education).

Since August 2020, Deputy Minister of Labour in charge of Social Insurance. During the period 2012-2014 he was Chairman of the Greek Government's Council of Economic Advisοrs and member of the EU Economic and Financial Committee (EFC) and Eurogroup Working Group (EWG) as well as alternate member of Ecofin and Eurogroup. He has also been Social Policy advisor to Prime Ministers G. Papandreou (2010-2011) and L. Papademos (2011-2012) and member of the EU Economic Policy Committee (EPC, 2010-2011). Further, he was member of the Council of Advisors on Employment and Social Insurance (2001-2002), National Council for Research and Technology (2001-2005), Council of Economic Advisors (2002-2004 and 2009-2012) and the Independent Authority for the Evaluation of Tertiary Education (2006-2009).