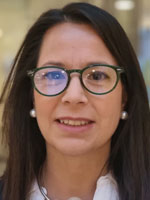 Myriam Zapata
Managing Director, Debt Capital Markets, Sustainable Finance ESG
BNP Paribas

Myriam Zapata is ESG specialist for the global Public Sector Debt Capital Markets team at BNP Paribas based in London. She has over 15 years of experience in Debt Capital Markets Origination for Sovereigns, Supranationals and Agencies and has been originating sustainable finance instruments since the inception of the green bond market in 2008.

Myriam has also assisted European and G7 Sovereigns, Supranational organisations and other public sector entities across the globe in their sustainability journey with marketing activities amongst socially responsible investors, gathering views from opinion leaders and helping shape up institutional ESG strategies.