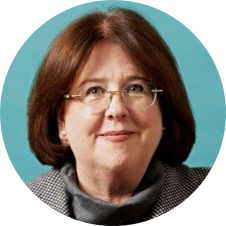 Ms. Elizabeth McCaul
Member of the Supervisory Board
European Central Bank

Elizabeth McCaul is a Member of the Supervisory Board of the European Central Bank. Her areas of responsibility include the Supervisory Review and Evaluation Process (SREP), internal governance and risk management, the digital agenda, the training program of the SSM as well as diversity and inclusion. She focuses on prudential implications in dynamic areas such as the oversight of FinTech and supervision of crypto-assets, cyber and IT risk and the digital transformation of the banking sector.

She joined the NY State Banking Department as First Deputy in 1995 and served as NY Superintendent of Banks from 1997-2003. She was elected Chair of the Conference of State Bank Supervisors, served as a Member of the Federal Financial Institutions Examinations Council, on the Joint Forum for Financial Conglomerates and as an Instructor for Financial Stability Institute at the BIS.

Before joining the ECB, she worked for Promontory Financial Group where she founded the New York office and served as the Partner-in-Charge, as CEO and Chair of Europe, and Global Head of Strategy.

For the first decade of her career she was an investment banker at Goldman Sachs.