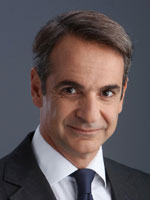 H.E. Mr. Kyriakos Mitsotakis
Prime Minister of Greece




Kyriakos Mitsotakis has been Prime Minister of Greece since July 2019, when a landslide general election victory swept his Nea Demokratia party to power. He is the leader of Greece's first majority government in more than a decade.




Campaigning on an unapologetically pro-business/anti-corruption platform, and an end to populism and the rhetoric of empty promises, as Prime Minister he has focused relentlessly on green and digital job creation, strong economic growth, sustainable tourism, and tax reform.




To date, he has prioritised foreign direct investment, enhanced Greece's credibility among the ratings agencies, provided a strong and respected voice at the centre of the European Union. He has also championed the role of experts and technocrats in his Cabinet, in senior positions in government and at the forefront of Greece's widely praised response to the Covid-19 pandemic.




Political career

Kyriakos was Greece's Minister for Administrative reform and e-government between 2013 and 2015. He became President of Nea Demokratia in 2016, after winning an open election in which he was widely considered the outsider. 




He immediately set about radically reinventing the party in opposition; modernising and renewing its appeal; boosting membership; and revolutionising fund-raising, based on small annual donations by members. He also put in place a code of transparency and accountability in how the party operated.




A member of the Greek Parliament since 2004, Kyriakos previously sat on a number of prominent parliamentary Committees, including the Committee for Constitutional Amendment, the Committee for Trade, and the Committee for National Defence. He was also an active member of the NATO Parliamentary Assembly. As Chairman of the Environment Committee and shadow minister for the environment he fought to highlight the issue of climate change and advocated for environmentally sustainable growth.




Early career and education

Before entering politics, Kyriakos worked for a decade in the private sector as a financial analyst with Chase Investment Bank, a consultant with McKinsey and Company and as CEO of NBG Venture Capital at the National Bank of Greece. He has a bachelor 's degree in Social Studies summa cum laude from Harvard, an MA in International Relations from Stanford, and an MBA from the Harvard Business School.




Family

Kyriakos is married to Mareva Grabowski, an investment banker. They have three children, Sofia, Konstantinos and Dafni, and live in Athens. In addition to Greek, the Prime Minister speaks English, French and German.