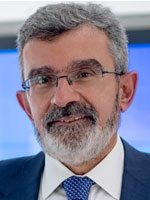 Panos Papazoglou
Managing Partner
EY Greece



Panos Papazoglou is the Managing Partner in Greece since July 2010. Effective January 2011 he became the CSE South Cluster Leader and effective January 2015 the Central and South Eastern Markets Leader as well. Following the Central Eastern Southeastern and Central Asia (CESA) integration in July 2018 he was the CESA Accounts Leader till December 2020.

He has served as Head of Assurance in Ernst Young Romania for two years and focused on the energy and technology sectors. He has also served as CMP and Head of Assurance in Bulgaria for three years.

Panos joined Ernst & Young in 1988 and is based in the Athens office. Panos is a Qualified Accountant in Greece and Romana.

Experience:

He has extensive exposure to the international environment. Managed cross - cultural teams, in a number of sizeable assurance and advisory projects.

He has sound management experience and supervisory skills gained over the 34 years of being involved in the accounting and audit profession.

His technical experience is a combination of engagements across a wide range of services including financial audits, privatizations, initial public offerings and offerings of shares. He has participated in numerous engagements involving / leading multicultural teams as well.

Other

He is a member of the BoD of the American Hellenic Chamber of Commerce, member of the Executive Committee and BoD of the Institute of Economic and Industrial Research (IOBE) and also member at the CEO Clubs and Endeavor.