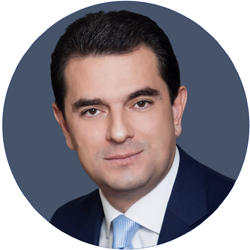 H.E. Konstantinos Skrekas
Minister of Environment & Energy
Greece

Mr. Skrekas holds a Degree in Civil Engineering and an MSc in Construction Management. He serves as a Member of the Greek Parliament with the New Democracy Party since 2012. He was appointed Minister of Development and Competitiveness in 2014 and Deputy Minister of Rural Development and Food, responsible for the Common Agriculture Policy, in 2019. In January 2021, he was appointed Minister of Environment and Energy.