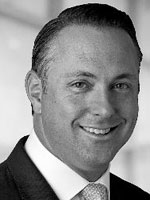 James Burchetta
Managing Director
Oaktree Capital Management

Mr. Burchetta joined Oaktree in 2014 from Highstar Capital with over 18 years of experience in private equity, securities issuances, mergers and acquisitions and finance. He focuses on investing transportation infrastructure, and serves on the boards of LoneStar Airport Holdings and Ports America Chesapeake, and previously served on the Board of Aerostar Airport Holdings. Mr. Burchetta joined Highstar in 2006 where he initially served as the deputy general counsel primarily focusing on transactional work related to acquisitions and divestitures.

Prior thereto, Mr. Burchetta worked for American International Group as the Division Counsel for its Mergers & Acquisition Insurance Group and was a corporate associate at Paul Hastings LLP. He received a B.S. degree in communications from Boston College and a J.D. from Fordham University School of Law.