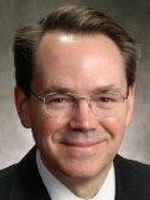 Patrick Kelly
Chief Executive Officer
Fraser Industries

Patrick Kelly has been the CEO of Fraser Industries since 2021. Fraser Industries is the parent company of Fraser Shipyards, Lake Assault Boats ("LAB"), and Northern Engineering. LAB builds aluminum hulled patrol and force protection boats for the U.S. Military, and builds Fire, Police, and Emergency Services boats for Federal Agencies, State and Local Governments, along with private sector work. LAB will deliver its 200th aluminum boat in 2022. Fraser Shipyards is a full-service shipyard that builds steel hulled ferries and ships and supports the Great Lakes fleet with maintenance, repairs and conversions.

Patrick is the founder and a Managing Partner of Foundry Mountain Infrastructure Partners which acquired Fraser Industries in 2021. His prior experience includes several executive positions for BP and Amoco in the United States, Europe, and Asia, as well as smaller and startup company leadership roles. Patrick holds an MBA from the J.L. Kellogg Graduate School of Management at Northwestern University, a Master of Science in geology and geophysics from Wright State University and a Bachelor of Science with honors in geology from Saint Lawrence University.