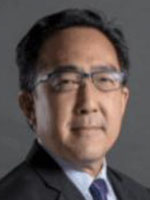 Ku'uhaku Park
Vice President of Government and Community Relations
Matson Navigation Co., Inc.

Since 2012, Ku'uhaku Park has been the Vice President of Government and Community Relations at Matson Navigation Co., Inc.

Immediately preceding Matson, Mr. Park held the position of Managing Principal at Oni Malie, LLC a consulting firm offering government relations and business development services. Prior to that, he was the Manager of the Public Affairs Group at Watanabe Ing, LLP and Government and Public Affairs Manager for the Hawaii Division of Horizon Lines, Inc.

By gubernatorial appointment, Mr. Park was named to the State Commission on Transportation in 2004 and in 2012 completed his second term as its Chair.

He currently serves as the President of the American Maritime Partnership and Chair of the Chamber of Commerce Hawaii. He also serves on the board of directors of: The Institute for Human Services; the Blood Bank of Hawaii the Girl Scouts of Hawaii; St. Francis Healthcare Systems; the Tax Foundation of Hawaii; the Makaha Sons Foundation; the Hawaii Harbors Users Group, and Ka Leo Hawaii (Chair).

In 2020, Mr. Park was named to the Legislature's House Select Committee on COVID19 Economic and Financial Preparedness and the Public Utilities Commission's Water Carrier Working Group to address the issues around regulated, intrastate maritime shipping.

Previously, he has served as a board member for the Hawaii Home Ownership Center; the Na Koa Football Club, the Hawaii Foodbank, the Hawaii Law Enforcement Memorial Foundation, and the Hawaii Transportation Association, and was a member of the Bishop Museum Association Council.

He attended Kamehameha Schools and Lewis and Clark College.