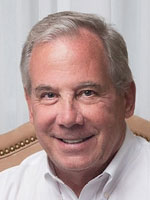 John D. McCown
Co-Founder & Former Chairman & CEO
Trailer Bridge, Inc.

John D. McCown is the co-founder and former Chairman & CEO of U.S. flag container carrier Trailer Bridge, Inc. Mr. McCown has been involved with shipping since getting his MBA from Harvard four decades ago. His mentor was Malcom McLean, the transportation pioneer who invented container shipping. More recently, Mr. McCown's focus on the industry has been from an investment perspective, including several years as the transport sector head at a $20 billion hedge fund. His primary focus now is on entrepreneurial projects in the maritime space, including a Jones Act turbine installation vessel initiative and a digital SAS product for container shippers. Mr. McCown writes extensively on maritime subjects that interest him and is the author of the recently published book "Giants Of The Sea", the story of the modern cargo shipping industry and the entrepreneurs mostly responsible for its development.