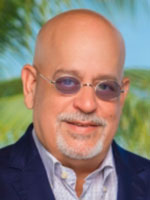 Eduardo Pagan
Vice President & GM
Caribbean Services
TOTE Maritime Puerto Rico

Eduardo Pagan joined TOTE Maritime in November of 2010 as the Vice President and General Manager of Caribbean Services. He brings more than 30 years of management consulting and transportation industry experience. Prior to joining TOTE Maritime, Pagan led his own consulting firm (Caribbean Solutions Partners) assisting organizations with Business Development and Strategic Planning.
Pagan worked at Unilever for 21 years in key roles including manufacturing, distribution, and international sales. He was deeply involved with Total Quality Management (TQM), Total Productivity Management (TPM), and Lean Manufacturing. In addition to the development and improvement of overall business practices. He was also the General Manager for C.R. Bard (medical devices Mfg.) operations in Puerto Rico.
At TOTE, he played a pivotal role on the company business strategy & accomplishments for the past decade, including the build of the Marlin's (first two containership in the world fueled by LNG).
He holds a BS degree in Industrial Engineering from the University of Puerto Rico and a master's degree in Business Administration.
Recipient of several awards, most recently; Executive of the year by the Puerto Rico Manufacturing Association, Puerto Rico Best Employers of the year by Kincentric (for the past 4 years). Humanitarian Award by the Seamen's Church Institute.
Pagan is also an active board member of the following organizations: Puerto Rico Boys & Girls Club (President), Puerto Rico Shipping Association (Past President), Caribbean Shipping Association (Council Member), B.E.O.C. (Business Emergency Operations Center – Vice President), Enactus and others.
Most recently, Pagan was the Leader for one of the workstreams of the Business Task Force working along with the Puerto Rico Government in managing the Covid-19 pandemic.