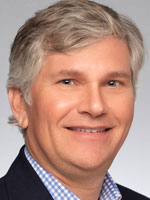 Will Terrill
President
US Ocean, LLC.

Mr. Terrill joined Intermarine in 2006 and was named Vice President of U.S. Flag Services in 2010. He was named President of US Ocean in 2017.

US Ocean is a cargo focused US Flag operator with the largest multi-purpose fleet under the US flag and one of the youngest fleets in the United States Registry Trade. The US Ocean team is comprised of veteran leadership with more than 100 years of industry experience pertaining to the movement of military, humanitarian aid, explosives, breakbulk, and project cargoes.

The Company maintains a fleet of six modern, shallow draft US Flag multipurpose vessels, with lifting capacities up to 900M. The Company's fleet includes the only US Flag commercial vessel with lift on/lift off, roll on/roll off, and float on/float off capabilities. US Ocean also operates internationally registered vessels that supplement the Company's core fleet of US Flag vessels.

Mr. Terrill has led the Company and US Ocean team through initiatives that include M&A, fleet recapitalization, newbuild programs, commercial organization and operations, and corporate organizational structure and management. During Mr. Terrill's tenure, US Ocean has modernized and expanded its fleet through multiple transactions involving lease structuring and non-recourse debt transactions, expanding the fleet from its original two US Flag vessels. He is relied on by U.S. governmental agencies and industry organizations for his expertise in international shipping and U.S. flag market perspectives.

Mr. Terrill is a graduate of Gettysburg College (BA, History – 1993), University of Maine School of Law (JD, 1997) and Tulane School of Law (LLM – Maritime Law, 1998). He is based in Houston, Texas.