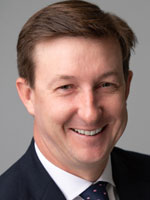 Dan Thorogood
President and CEO of Seabulk
VP of SEACOR Holdings Inc

Dan Thorogood is the President and CEO of Seabulk and a VP of SEACOR Holdings Inc, Seabulk's parent company. Seabulk is a leading Jones Act tanker and harbor towing owner/operator and a provider of U.S flag ship management services headquartered in Ft. Lauderdale, Florida. He is also responsible for SEACOR's short-sea shipping, and logistics investments and serves as the Chairman of Trailer Bridge Inc.

Prior to commencing his current role in 2009, Mr. Thorogood served in SEACOR'S international offshore marine services division on operational and commercial assignments before moving to SEACOR's corporate group in a business development capacity. He has experience supporting company re-organizations and M&A activities. Mr. Thorogood is a graduate of University College, London.