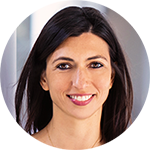 Charis Plakantonaki
Chief Strategy Officer
Star Bulk Carriers Corp.

Charis Plakantonaki is the Chief Strategy Officer of Star Bulk Carriers Corp., the largest US listed dry bulk shipping company. Since joining Star Bulk in 2015, Charis has led the company's strategic planning, ESG, human resources, information technology, and public affairs, enabling the company to operate efficiently and further grow sustainably. Prior to Star Bulk, she worked at Thenamaris (Ships Management) for seven years on strategy, planning and corporate communications, and before that, she was a senior consultant at the Boston Consulting Group on strategy projects across industries and geographies. Charis holds an MBA from INSEAD and a BS in International & European Economics & Politics. She serves on the Board of the Liberian Shipowners' Council, on the Board of Trustees of Anatolia College, and on the Advisory Board of Seafair.