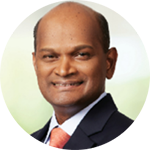 Capt. Sachi assumed his current AET appointment in June 2021.

He was previously Head of Group HSSE (GHSSE) at MISC, where he led the organisational transformation of GHSSE and was involved in the restructuring of the Malaysian Maritime Academy Sdn Bhd (MMASB) and Akademi Laut Malaysia (ALAM) which MMASB operates.

He also served as Global Director of Technical Services and Development, Vice President of Operations (Asia) and Global Operations Prime in AET. He has represented AET and MISC in different Technical and Owners' Committees for various classification societies and the Global Maritime Forum.

Capt. Sachi had sailed for more than 16 years before moving onshore. He holds a Class 1 Master Mariner license (Foreign Going), and an MBA from University of Tasmania.