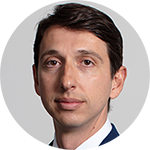 Andrea Olivi
Global Head of Wet Freight
Trafigura Group Pte Ltd

Andrea was appointed Global Head of Wet Freight for Trafigura in August 2020 and is responsible for leading the provision of shipping and freight services for the Group's commodity trading teams and third-party clients relating to oil and petroleum products.

Andrea joined Trafigura in September 2015 as an oil charterer in the company's Geneva office, responsible for formulating and implementing Trafigura Suezmax, Aframax and dirty Handysize global book strategies.

Andrea started his career working for shipowner Teekay which he joined in 2007 as graduate trainee rotating in various roles. During his seven years with Teekay; Andrea progressed to become Chartering and Business Development Manager, taking an active role in Teekay's investment group and originating and executing the company's long term tanker projects. Andrea had a primary role in setting up and marking Teekay Lr2 pool 'Taurus Tankers' which grew from two to 19 units under management. His last role for Teekay was to be responsible for managing Taurus Tankers global chartering and freight trading desk. During this time Andrea also graduated with an Executive MBA from Cass Business School.

In early 2014, Andrea joined Socar Trading in Geneva responsible for chartering activities for all clean, feedstock and non-Azeri crude oil cargoes and leading a team of charterers based in Montecarlo, Singapore and Geneva.