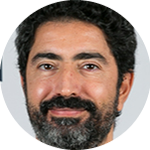 Pino Spadafora
Global Commercial Senior Director - Marine
RINA

Pino Spadafora currently serves in the marine sector as RINA's Global Commercial Senior Director and has been living and working in Northern Europe for 17 years to continually enhance the profile of the group throughout the region. His current responsibilities encompass group strategy and external corporate development, both commercially and technically. In terms of group strategy, he is specifically responsible for the rollout across business streams into a global plan and ensuring consistency with the company's vision and mission. Working closely with RINA's CEO and individual business streams, his role is to identify potential partners with whom to collaborate to grow and build the business.

Pino has acquired a wealth of experience in fleet management principles, classification services, advisory services, project management, key account management and customer service, including customer retention and satisfaction. He also has excellent knowledge and technical experience of all aspects of the marine industry, including environmental and regulatory matters.