Speaker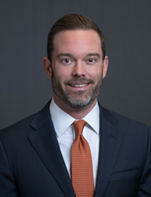 Jeff Jorgensen
Managing Director, Portfolio Manager, Director of Research, Energy Infrastructure Securities
Brookfield Asset Management

Jeff Jorgensen has 11 years of industry experience and is a Portfolio Manager and the Director of Research on the Public Securities Group's Energy Infrastructure Securities team. He leads the research efforts across the firm's energy infrastructure investment products and provides recommendations on buy and sell activity. Prior to joining the firm in 2014, Jeff was an Executive Director at UBS Investment Bank in the Global Natural Resources group after working in Energy Investment Banking at Morgan Stanley and as a finance attorney at Bracewell & Giuliani LLP. As a banker and an attorney, Jeff worked with more than 50 management teams on over $40 billion of MLP and energy equity and debt offerings and $10 billion of M&A transactions. Jeff earned a Juris Doctor degree (with Honors) from The University of Texas School of Law, and a Bachelor of Arts in Economics, Managerial Studies and Sports Management from Rice University.