Speakers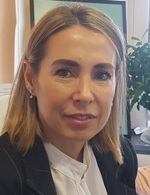 Maria Christopoulou
Quality & Training Manager
Neda Maritime Agency Co. Ltd.

Maria Christopoulou is a Law graduate of the National & Kapodistriakon University of Athens, Bachelor Degree in European Affairs & International Studies and with a minor in Journalism.

She has been active in the shipping industry for over 15 years, working in key role positions related to Safety and Quality.

She has been working for Neda Maritime since 2004 first as Safety & Quality Coordinator, later as Deputy Safety & Quality Manager and since 2014 as Quality & Training Manager. Since 2014 she is also the company MLC representative.

As the Quality & Training Manager she introduced the digitalization of the company's training systems and processes by applying innovative, customized solutions, and achieved certification of Neda Maritime as an "Approved Training Provider" by Lloyd's Register.

She is an ISM/ISO certified Auditor and company's ISO 9001 representative, and was elected and served as Chairperson of Helmepa's Training Committee from April 2011 till September 2017.

Since March 2016, she is coordinating Neda's campaign on "Resilience", a project that has received the 2016 Safety4Sea Excellence Award.