Speakers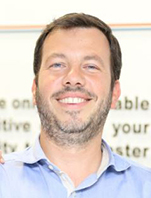 George Ousantzopoulos
Head of Safety/Vetting
Almi Tankers

George Ousantzopoulos has focused the last 8 years of his professional career supporting the creation of Almi Tankers S.A. together with an enthusiastic team of qualified, motivated and competent people.

George studied Naval Architecture and Marine Engineering (NTUA) and completed his MBA in "Techno-Economical Systems" at the two-year joint program of the NTUA, the National Kapodestrian University of Athens and the University of Piraeus. He never stops investing in lifelong learning and seeks opportunities to contribute to the improvement and sustainability of the shipping industry.

In his career George has worked for oil and gas carrier companies in leading roles on Health, Safety, Security, Quality and Environmental as well as Technical matters. Presently at Almi Tankers S.A. apart from being the Head of the HSQE, CSO and Vetting departments, he is also co-leading two of the company's Strategic Focus Groups, "Internal Processes" and "Customer Satisfaction".