Speakers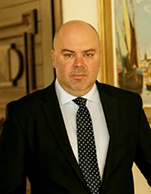 Stylianos I. Siafakas
Chief Executive Officer
Dromon Maritime Inc.

Mr. Stylianos I. Siafakas is the CEO of Dromon Maritime Inc. and has been in Shipping and especially in the Tanker Industry since 1989. He has both shipboard and office experience and has served in senior & executive positions, setting up large shipping companies for the last 16 years.

Mr. Siafakas has studied at the Merchant Marine Academy (Faculty of Master Mariners). He has also studied Shipping Law and Finance as well as Mechanical & Aeronautical Engineering.

Continuous Education, Qualifications & Certification obtained, include between others: Lead Auditor, Risk Management, Media Response, Incident Investigation, Crisis Management, Train the Trainer, Behavioral Analysis, OPEX Optimization etc.

He has been also involved in several Shipbuilding and Management Take-over projects during the last 10 years. He has participated in 3 IPOs for Nasdaq and NYSE.