Speakers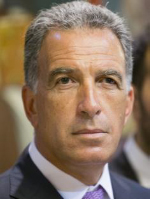 Pericles Tzardis
Chief Medical Advisor
ShipMedCare LTD

Pericles Tzardis, MD, is Chief Medical Advisor of ShipMedCare LTD. Prior to joining the Shipping sector through the establishment of ShipMedCare LTD, Dr.Tzardis worked as Consultant and Senior Consultant General Surgeon in Red Cross Hospital in Athens. He contributed to patient care in the areas of minimally invasive surgery and benign and malignant upper gastrointestinal diseases. In 2013 he became the Director of the 1st Surgical Department of Red Cross Hospital.

A native Greek, he received his Medical Degree from the Medical School of Athens University (1980). In 1983 he joined the 1st Surgical Clinic of the Athens University Hippokration Hospital, where he completed his residency in general surgery and obtained his PhD (1988). He concluded a fellowship in Transplant Surgery in the University Of Minneapolis, USA, after earning a Postgraduate Scholarship in 1988.

Dr. Tzardis monitors latest medical developments as well as broadens his horizons attending seminars concerning management and entrepreneurship. He enjoys swimming and he participates in open water races.