Speakers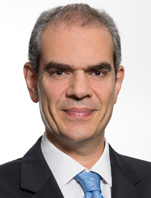 Stavros Pantzaris
Country Managing Partner
EY Cyprus

Stavros is the Country Managing Partnerand has served as the Assurance Leader of EY in Cyprus for the period 2013-2018 (August). He is also the local Shipping and Oil & Gas Sector Leader. Stavros has over 25 years of experience in Assurance and Advisory Business Services in local and multinational organizations. He has extensive experience in auditing IFRS financial statements of local and multinational organisations mainly in the shipping, energy/oil & gas, hospitality & leisure and retail & distribution industries. Stavros has also applied his extensive assurance skills via leading various buy-side due diligence projects as well as in the preparation of IPO and prospectuses for companies applying for a listing on the Cyprus Stock Exchange.

Stavros holds a B.Eng. degree (Hons) in Engineering with Industrial Management from the University of Surrey, UK. He is a fellow of the Institute of Chartered Accountants in England & Wales (FCA) and a member of the Institute of Certified Public Accountants of Cyprus (ICPAC). He is also a Vice President of the Board of Directors of the ICPAC and a member of the Cyprus Institute of Internal Auditors, Transparency International-Cyprus, Cyprus Employers and Industrialist Federation as well as the Cyprus - UK, Cyprus - USA and Cyprus - Nordics Business Associations of the Cyprus Chamber of Commerce and Industry.