Speakers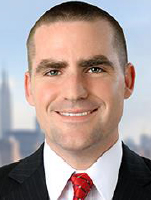 David Perlman
Exchange Traded Fund Sector Strategist
CIO Wealth Management Research
UBS

David Perlman holds an undergraduate degree in chemistry from Colgate University. He has an MBA with specializations in finance & strategy from New York University's Stern School of Business.

David Perlman is a member of the wealth management research team posted in New York, covering Exchange-Traded Funds. He previously spent over eight years with Morgan Stanley. He started on the wealth management fixed income desk before joining the Exchange-Traded Fund and Closed-End Fund Research Team in 2007. In collaboration with other analysts, he published reports discussing ETFs and CEFs and worked with financial advisors and clients of the firm on implementing investment themes and recommendations using ETFs and CEFs.

David was part of an award winning Exchange-Traded Fund and Closed-End Fund Team while at Morgan Stanley.