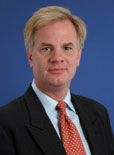 Jay Collins
Vice Chairman of Global Banking & Managing Director of the Public Sector Group, Citi

is a Vice-Chairman of Global Banking and a Managing Director of the Public Sector Group for Citi. The Public Sector team is responsible for managing the firm's relationships with sovereign governments, municipalities, and supranational clients around the world. He has advised Governments on large scale financings, debt restructurings, privatizations and efficiency initiatives on every continent.
Until March 2005, Jay was Head of CEEMEA, Global Banking at Citi. Prior to his CEEMEA position, he was Deputy Head and the senior foreigner in NikkoCitigroup's Investment Banking Division, and also served as Chief Operating Officer for the Latin America Region and Deputy Head of Investment Banking.
Jay has covered clients around the world in every sector and run transactions across the full product spectrum of Citi. He has a Masters Degree from Georgetown University and is a Phi Beta Kappa graduate of Colorado College. He speaks Japanese, Portuguese and Spanish.
Jay is Vice Chairman of the Board of the Center for the Study of the Presidency and Chairman of the U.S.-Pakistan Business Council. He is also a member of the Council on Foreign Relations, the Bretton Woods Committee and the International Policy Committee of the U.S. Chamber of Commerce.