SPEAKERS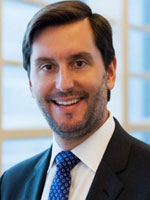 Gabriel Alonso
CEO & President
547 Energy LLC

Gabriel Alonso is the President & CEO of 547 Energy LLC, the clean energy investment platform of Quantum Energy Partners. In his role Gabriel sources, evaluates, negotiates, structures and executes on investment opportunities across the energy transition space. He also works closely with Quantum's portfolio companies on activities such as mergers, acquisitions, divestitures and general strategic advice.
Gabriel is a 20-year veteran of the renewable energy industry with experience in North & South America, Europe and North Africa. Prior to joining Quantum/547 Energy, he served as CEO of EDP Renewables North America (EDPR NA), the fourth largest producer of renewable energy in North America. He joined EDP in early 2007 as Managing Director for North America, where he led its entrance into the United States renewables market through the acquisition of Horizon Wind Energy. Gabriel also co-directed the Initial Public Offering of EDP Renovaveis S.A. (EPPR) in 2008. During his time as the leader of EDPR NA, he expanded the operating portfolio more than eightfold from 700 MW of wind energy projects in the U.S. in 2007 to approx. 6,000 MW of wind and solar energy projects in the U.S., Mexico, and Canada by 2017.
Gabriel has served for 9 years on the Executive Committee and Board of the American Wind Energy Association and chaired its Board of Directors from 2012-2013. He was selected by Windpower Monthly Magazine as a Top 10 member within the list of the Most Influential Executives in the wind energy industry worldwide. He holds a Law degree with specialization in Economics from University of Deusto in Spain, and an Advanced Management Program from the University of Chicago.