SPEAKERS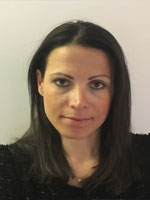 Eleni Bathianaki
Associate Partner
EOS Capital Partners

Eleni has 19 years of experience in investment banking, strategic advisory and private equity positions. Currently, she is an Associate Partner at EOS Capital Partners since its formation in 2017, a Greek Private Equity Growth Fund with €150 MM under management.
Prior to her current role, she was a Senior Manager at Piraeus Bank Group Strategy team leading several strategic projects, such as the transformation of Geniki Bank post its acquisition by Piraeus Bank and the execution of key M&A and capital issuance transactions during the period 2009 to 2017. Prior to this role, Eleni was a Senior Associate in the Investment Banking Group at Morgan Stanley for the period 2006 to 2009 being responsible for the origination, advisory and execution of a number of M&A and capital market transactions for public and private sector corporates in Greece. She started her career at Citigroup Global Market Investment Banking Unit in 2002, being involved in multiple M&A, privatization and capital market transactions across a very diversified number of sectors in Greece, CEE and North Africa. She holds a Banking and International Finance Degree from City University Business School London and a MSc in Accounting and Finance from the London School of Economics, UK.
She holds Board positions in two Greek companies as well as being a mentor in Endeavor Greece and a Member of the Board of Directors in the Greek NGO, Desmos.