SPEAKERS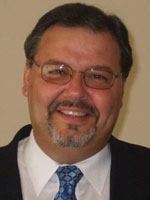 John E. Charalambakis
Managing Director
BlackSummit Financial Groupd

Dr. John E. Charalambakis is the Managing Director for the BlackSummit Financial Group Inc. (BFG) in the United States. Dr. Charalambakis has studied economics and finance in Greece, the U.S., and the U.K. Dr. Charalambakis has been consulting with numerous organizations, corporations, families, non-profits as well as government entities in several countries.
Dr. Charalambakis's expertise is on risk assessment, wealth and asset management, as well as on corporate growth and development. Dr. Charalambakis teaches economics & finance at the Patterson School of Diplomacy at the University of Kentucky. He is the recipient of many awards, the author and editor of books and numerous articles, has served on corporate boards, has appeared on economic and financial TV shows, and is a frequent conference and seminar speaker. Dr. Charalambakis assisted the Congressional Financial Crisis Inquiry Commission in their research regarding the causes of the financial crisis.