SPEAKERS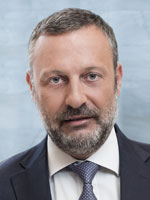 George Chryssikos
Founder
Managing Partner

George Chryssikos founded Grivalia Management Company and has an active leading and managing role. At this moment Grivalia has € 3.1 bn of assets under management and continues capital deployment in the Greek real estate sector.
George has founded Grivalia Hospitality platform in 2015 to deploy capital in the very attractive high-end hospitality sector in Greece and abroad. The company has already invested in seven hospitality assets with an estimated value of over €0.5 bn and it is managed by Grivalia Management Company.
George served as Chief Executive Officer, Executive BoD member and Chairman of the Investment Committee of Grivalia Properties REIC. Together with his team, George has completed real estate transactions of over €1.2 bn in commercial and leisure real estate.
George is currently Vice Chairman, Non-Executive Director of the BoD of Eurobank Group. In the past George was Managing Director of Corporate Value Partners, CEO of DTZ in Greece, BoD advisor at Iaso Healthcare Group and Senior Associate in McKinsey & Co at the London Office specializing in private equity. He has also experience in the construction industry in Greece, having worked as Project manager for more than 2 years in a specialized construction company.
George holds an MBA in Corporate Finance & Strategy from Columbia Business School (NY), an MSc in Engineering & Construction Management from UC Berkeley (CA) and a MEng in Civil Engineering from National Technical University of Athens. In his younger age, George was a National Champion in sailing and member of the Greek National Sailing Team for many years.