SPEAKERS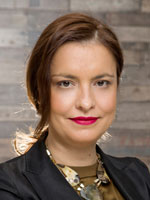 Rania Ekaterinari
CEO
Hellenic Corporation of Assets and Participation (HCAP)

Rania Ekaterinari is CEO and member of the Board of Directors of the Hellenic Corporation of Assets and Participations SA (HCAP), which is a holding company, owning a large portfolio of participations in subsidiaries, which exploit significant assets of the State as well as in a number of state-owned enterprises active in key sectors of the Greek economy.
Before these positions, she was Partner at Ernst & Young (EY) in Transaction Advisory Services and also Energy Sector leader for Southeast Europe. Between 2010 - 2015, she was Deputy CEO of Public Power Corporation (PPC), the largest Greek electric utility with 7mn customers and € 6bn revenues, and member of its Board of Directors.
She has also worked for more than 10 years, in corporate & investment banking, in London and in Athens for Deutsche Bank, BNP Paribas and Eurobank. In the 90s, she worked in the oil industry in the Caspian region for Texaco in London as well as an electrical engineer in Athens and Copenhagen.
Mrs. Ekaterinari is a member of the Hellenic Corporate Governance Council (HCGC). She is also member of the European Network for Women in Leadership (WIL), member of the Advisory Board of Dianeosis, member of the Leadership Committee of American Hellenic Chamber of Commerce (AmCham) and member of the Council for Competitiveness of Greece (COMPETEGR).
She was member of the Energy Committee of the American-Hellenic Chamber of Commerce, member of the Supervisory Board of the Greek Independent Transmission Operator and Deputy Chairman of the Energy Committee of the Technical Chamber of Greece.
She holds a degree in electrical engineering from Aristotle University and an MBA from City University Business School.