SPEAKERS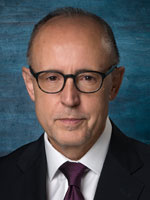 Aristotelis Karytinos
Chief Executive Officer
Prodea Investments

Aristotelis Karytinos is the Chief Executive Officer of Prodea Investments, the leading real estate investment company in the region with assets exceeding € 2 bn in Greece, Cyprus and selectively in other key markets in neighbouring countries, such as Italy. He possesses long standing experience in investment and banking through key positions both in the public and private sectors. Prior to his current position Karytinos was the General Manager - Real Estate of the National Bank of Greece Group. Before joining the NBG Group, he held senior positions within Eurobank EFG Group, including Head of Group Real Estate, Head of Mortgage Lending and CEO of Eurobank Properties REIC ( later known as Grivalia REIC) , a company which he led into a successful IPO in 2006 and a subsequent rights issue in 2007, raising in total approximately €450 m. In the past, he served for several years as senior manager in companies of the public and private sector. Aristotelis Karytinos holds a Doctorate (PhD) in Finance from the University of Warwick, UK and is a Fellow of RICS.