SPEAKERS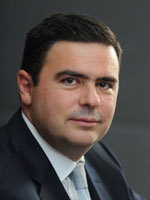 Petros Machas
Founding Partner & Chairman
Machas & Partners Law Firm

Petros is the Founding Partner of Machas & Partners Law Firm. Petros and the Machas real estate department are one of the most dynamic and specialized real estate teams in Greece, acting for a large number of foreign investors in the field of real estate, providing the while range of legal services including, tax structuring, due diligence, bank loans and project finance, negotiating contractual terms for the purchase and sale of real estate and the perfection of collateral securities for financing purposes. Machas is also currently acting as the legal advisor to the Hellenic Republic Asset Development Fund with respect to the completion of the Hellinikon Project, Greece's most emblematic real estate development and one of Europe's largest urban planning projects. Petros is known for being an unconventional and progressive thinking legal practitioner focusing on the needs of his real estate clients. He manages complex cross border real estate transactions and investments with ingenuity, business acumen and integrated legal solutions, enabling his clients to meet their goals with the certainty that their transactions are well structured. This the reason is why Petros Machas has achieved the status of "go to legal counsel" for foreign investments in real estate in Greece.