SPEAKERS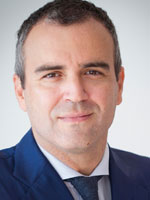 Marko Mrsnik
Senior Director, EMEA Sovereigns & International Public Finance Ratings
S&P Global Ratings

Marko Mršnik is a Senior Director in the European Sovereign Ratings Group at S&P Global Ratings, and a Lead Analyst focused on the Eurozone sovereigns, in particular on its southern members. His analytical responsibilities include Spain, France, Italy, Portugal, Greece, Belgium, Luxembourg, Morocco and Cyprus.
Before joining S&P Global Ratings in London in 2007, Marko was an economist in the European Commission in Brussels, specializing in macro-economy of the euro-area and EU, with particular reference to public finances and euro-area accession, where he co-authored the EMU Sustainability Report and Public Finances in EMU. He had previously worked as a consultant for the European Investment Bank in Luxembourg.
Marko holds a bachelor of arts degree in Economics from the University of Ljubljana, Slovenia, and a master of arts degree in European Economic Studies from the College of Europe, Belgium, where he was also a researcher and tutor. Marko is fluent in Spanish, Slovene, English, French, Italian, Croatian and Serbian.